Posts for tag: sensitive teeth
By Bohle Family Dentistry
September 18, 2016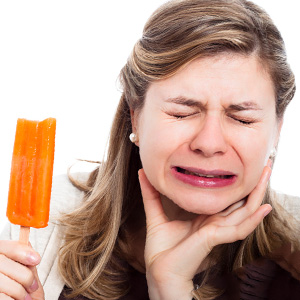 If you're one of over 30% of Americans who wince in pain when eating and drinking certain foods and beverages, you may have tooth sensitivity. Although there are a number of possible causes, the most common place to look first is tooth dentin.
Lying just under the enamel, dentin consists of tiny tubules that transmit sensations like pressure or temperature variation to the nerves of the inner pulp. The enamel, the gums and a covering on the roots called cementum help dampen these sensations.
But over-aggressive brushing or periodontal (gum) disease can cause the gums to shrink back (recede) and expose the dentin below the gum line; it can also cause cementum to erode from the roots. This exposure amplifies sensations to the nerves. Now when you eat or drink something hot or cold or simply bite down, the nerves inside the dentin receive the full brunt of the sensation and signal pain.
Enamel erosion can also expose dentin, caused by mouth acid in contact with the enamel for prolonged periods. Acid softens the minerals in enamel, which then dissolve (resorb) into the body. Acid is a byproduct of bacteria which live in dental plaque, a thin film of food particles that builds up on teeth due to poor oral hygiene. Mouth acid may also increase from gastric reflux or consuming acidic foods or beverages.
Once we pinpoint the cause of your tooth sensitivity we can begin proper treatment, first and foremost for any disease that's a factor. If you have gum disease, we focus on removing bacterial plaque (the cause for the infection) from all tooth and gum surfaces. This helps stop gum recession, but advanced cases may require grafting surgery to cover the root surfaces.
You may also benefit from other measures to reduce sensitivity:Â applying less pressure when you brush; using hygiene products like toothpastes that block sensations to the dentin tubules or slow nerve action; and receiving additional fluoride to strengthen enamel.
There are effective ways to reduce your tooth sensitivity. Determining which to use in your case will depend on the cause.
If you would like more information on tooth sensitivity, please contact us or schedule an appointment for a consultation. You can also learn more about this topic by reading the Dear Doctor magazine article "Treatment of Tooth Sensitivity: Understanding Your Options."
By Dr. Charles Bohle, Bohle Family Dentistry
August 06, 2013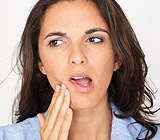 Nothing ruins a thirst-quenching cold beverage or a dish of your favorite ice cream like a sudden pang of tooth sensitivity. If you're experiencing this problem — and especially if there are other triggers, like biting down — we encourage you to make an appointment. It could be something harmless and temporary, but it's always prudent to check. At the very least, you'll feel better once the underlying problem is identified and treated if necessary.
Here are some common sources of tooth sensitivity:
Enamel erosion — typically caused by acidic beverages/food, regurgitation of stomach acids (due to gastroesophageal reflux disease [GERD] or the eating disorder bulimia), or improper brushing
Tooth decay — a sugary diet and poor dental hygiene may be contributing factors
Tooth fracture or chipping due to tooth grinding (bruxism) or other trauma
Gum recession due to age, improper tooth brushing, or gum disease
Filling that needs repair or replacement
Residual effects of recent dental work
Some things you can try at home to minimize sensitivity include:
Ease up on the toothbrush; a light touch is all that's needed to dislodge daily plaque build-up
Try using fluoride-containing toothpaste like an ointment over the affected area (fluoride decreases fluid exchange from the oral environment to the nerve inside the tooth)
Take a non-steroidal anti-inflammatory such as ibuprofen (use judiciously and according to the package insert guidelines)
Discomfort related to recent dental work should resolve on its own; give it several weeks. If you're feeling discomfort for another reason, even if the sensitivity subsides, the underlying cause may still require attention.
If you would like more information about tooth sensitivity, please contact us or schedule an appointment for a consultation. You can also learn more about this topic by reading the Dear Doctor magazine article "Sensitive Teeth."