Posts for tag: periodontal disease
By Bohle Family Dentistry
November 10, 2016
Periodontal (gum) disease is a serious matter. Not only can it wreak havoc with your gums, it could also cause bone loss in the jaw that supports your teeth.
Gum disease is a bacterial infection that originates from a thin film of food particles on tooth surfaces called plaque. If you're not diligent about removing plaque through daily brushing and flossing, it can become a feeding ground for certain strains of bacteria that trigger gum infections. Left untreated, the disease can advance deeply into the teeth's supporting structures.
We're particularly concerned about furcations, the specific locations where multiple roots of a tooth fork or separate. When these locations become infected we call it a furcation involvement or invasion. The bone along the furcation will begin to deteriorate and dissolve, following a progression of stages (or classes) we can measure by probing the gum tissue or through x-ray evaluation:
Class I: the furcation feels like a groove, but without any noticeable bone loss;
Class II: a depression of about two or more millimeters develops indicating definite bone loss;
Class III: Â bone loss now extends from one side of the root to the other, also known as "through and through."
Treating furcation involvements can prove challenging because the infection is usually well below the gum line (sub-gingival). As with all gum disease treatment, our primary approach is to remove all plaque and calculus (hardened plaque deposits) where we find it, including around the roots. We typically use specially shaped instruments to clean the root surfaces. We can also employ an ultrasonic device that loosens plaque and calculus with high-frequency vibrations and flushed away with water.
Sometimes, we may need to surgically access involved furcations to clean them and stimulate bone growth with grafting. We can also use surgery to make the areas easier to clean — both for you and for us during your regular office cleanings — to prevent reoccurrences of infection.
Of course, preventing gum disease in the first place is your best defense against oral problems like furcation bone loss. Be sure you brush and floss every day, and visit us for thorough cleanings at least twice a year (unless we recommend more). This will help make sure not only your gums, but the bone that supports your teeth stays healthy.
If you would like more information on treating periodontal (gum) disease, please contact us or schedule an appointment for a consultation. You can also learn more about this topic by reading the Dear Doctor magazine article "What are Furcations?"
By Dr. Charles Bohle, Bohle Family Dentistry
February 05, 2014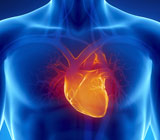 Your body's organ systems are interlinked — what happens in one system may affect another. An example of this is the interrelationship between periodontal (gum) disease and cardiovascular disease (CVD).
Medicine has discovered a common link between these two different conditions — inflammation. A result of the body's defense mechanisms, chronic inflammation is damaging to both your mouth and your heart. Inflammation can destroy the gum's soft tissue and underlying bone and lead to tooth loss. In the cardiovascular system, inflammation can begin and accelerate the buildup of plaque within arterial blood vessels (atherosclerosis). This inhibits the flow of oxygenated blood to both the heart and brain, which sets the stage for a heart attack or stroke.
Gum disease begins with poor oral hygiene. When brushing and flossing aren't performed on a regular basis, or not performed adequately, it allows a thin layer of bacterial plaque called biofilm to build up on the teeth. The bacteria cause infection in the soft tissues of the gum that triggers the chronic inflammation. Because it's often unaccompanied by other signs of infection like fever, a patient may not even be aware of it. There's evidence now that inflammation caused by moderate to severe gum disease can contribute to a similar response in blood vessels.
We can treat the gum disease and reduce or eliminate the inflammation. This first requires the removal of all plaque and calculus (harder deposits) on the teeth, down to the root level. It may require surgery to access these areas and to help regenerate some of the lost tissue and bone that support the teeth. It's also important to institute proper oral hygiene — effective daily brushing and flossing, semi-annual office cleanings and checkups.
In a similar way, you should address signs of inflammation in your cardiovascular system, including blood pressure management and the control of LDL (bad) cholesterol. Because both gum disease and CVD share many of the same risk factors, you can positively impact both your oral and general health by eating more nutritional foods, engaging in regular exercise and quitting tobacco products.
Treating any symptom of inflammation is important to improving your total health. By bringing gum disease and its accompanying inflammation under control, you may in turn help your heart and blood vessels.
If you would like more information on the relationship between heart and gum diseases, please contact us or schedule an appointment for a consultation. You can also learn more about this topic by reading the Dear Doctor magazine article "The Link Between Heart & Gum Diseases."
By Dr. Charles Bohle, Bohle Family Dentistry
September 05, 2013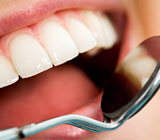 Being "in the pink" is a good thing; it means you're healthy. Being "in the red" is not so good; it means your health is questionable (financially, anyway). Though they weren't coined for dentistry per se, these colorful expressions are helpful reminders when it comes to taking care of your gums: Pink is their natural, healthy color; that's what you want to see every time you look in the mirror. Red is generally a warning that something's amiss.
If your gums, or "gingiva," appear slightly swollen and reddened at the margins and/or they bleed when lightly prodded by brushing or flossing, it's likely that you have gingivitis. This is an immune response to the buildup of bacterial plaque (biofilm) at your gum line. It is also an early red flag for periodontal disease (peri – around, odont – tooth), a degenerative process that affects not only the gums, but the periodontal ligament that attaches each tooth in its bony socket, and the underlying supporting bone.
Attentive home dental hygiene practices prevent most plaque buildup from occurring. Brushing correctly at the gum line is a good start. But even a deftly handled brush can't reach everywhere, so it's important to use dental floss or specially designed mini-brushes to get in between teeth and other hard-to-reach areas. Our office can instruct you on optimal home care techniques. We also encourage you to visit at regular intervals for professional cleanings so you are assured of addressing anything home care might miss.
In the absence of good oral hygiene, dental plaque can build and become increasingly difficult to remove as it calcifies, becoming tartar. It becomes a breeding ground for disease-causing microbes that normally wouldn't have the chance to gain a foothold. When caught early, gingivitis can be treated before any harm is done. Sometimes a thorough professional cleaning is sufficient. If the problem is ignored, however, the disease will most certainly progress to destruction of the surrounding, supporting tissues — the periodontal ligament and the underlying bone. If this happens, tooth loss could eventually result.
That said, there can be other causes for bleeding gums. These include:
Brushing too rigorously or using a toothbrush with bristles that are too firm
Side effect of a medication
In women, elevated hormone levels (e.g., birth control pills or pregnancy)
A systemic (bodily) disease
Whatever the reason, red is not normal when it comes to your gums. The sooner you discover the underlying reason(s) for inflammation or bleeding and take appropriate action, you and your smile will be back in the pink and you'll have no reason to be blue!
If you would like more information about preventing or treating bleeding gums, please contact us or schedule an appointment for a consultation. You can also learn more about this topic by reading the Dear Doctor magazine article "Bleeding Gums."