Posts for: March, 2018
By Bohle Family Dentistry
March 30, 2018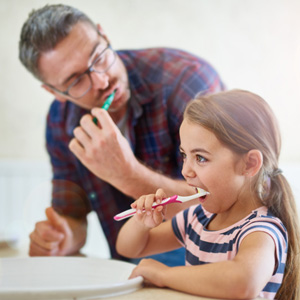 Philosopher Will Durant wrote, "…We are what we repeatedly do. Excellence, then, is not an act but a habit." While that observation could aptly apply to a great deal of life, it's certainly true of dental health. Strong, healthy teeth and gums are largely the result of good oral habits started in early childhood.
Here are some important dental care habits you'll want to instill in your child, as well as yourself.
Practice and teach daily oral hygiene. Keeping your child's mouth clean helps prevent future dental disease. It should begin before teeth appear by wiping your baby's gums with a clean, wet cloth after every feeding to keep decay-causing bacteria from growing. Once teeth appear, switch to brushing with just a smear of toothpaste until age 2, when you can increase to a pea-sized amount. As your child matures, be sure to teach them to brush and floss for themselves, especially by modeling the behavior for them.
Begin dental visits early. Besides daily hygiene, regular professional dental care is one of the best habits for keeping healthy teeth and gums. Plan to begin your child's dental visits by age 1 when some of their teeth may have already come in. And by beginning early, it's more likely your child will view dental visits as a routine part of life, a habit they'll more likely continue into adulthood.
Keep your oral bacteria to yourself. Many strains of bacteria, especially harmful ones, don't occur spontaneously in a child's mouth. They come from the outside environment, most often from their parents or caregivers. To avoid transmitting disease-causing bacteria from you to your baby don't share eating utensils, don't lick a pacifier to clean it, and avoid kissing infants (whose immune systems are immature) on the mouth.
Encourage your teenager to avoid bad habits. Hopefully when your children reach adolescence, they've already developed good oral habits. But there are some bad habits you should also help your teen avoid. While piercings are a popular expression among this age group, teens should avoid tongue and lip bolts and other piercings that could damage teeth. A tobacco habit can also have negative consequences for dental health including increased decay or gum disease risk and cancer.
If you would like more information on dental care for children, please contact us or schedule an appointment for a consultation. You can also learn more about this topic by reading the Dear Doctor magazine article "Dentistry & Oral Health for Children."
By Bohle Family Dentistry
March 15, 2018
You might not be aware how much force your jaws generate while you eat or chew. But you can become aware in a hurry when part of your inside cheek or lip gets in the way.
What may be even worse than the initial painful bite are the high odds you'll bite the same spot again—and again. That's because of a feature in the skin's healing process.
As a surface wound heals, it often forms a cover of fibrous tissue consisting of the protein collagen. This traumatic fibroma, as it's called, is similar to a protective callous that develops on other areas of damaged skin. In the process, though, it can become "taller" than the surrounding skin surface, which increases the chances of another bite.
This second bite often results in more fibrous tissue formation that rises even higher from the skin surface, which then becomes more likely to be bit again. After repeated cycles, the initial wound can become a noticeable, protruding lump.
These kinds of sores are typically not cancerous, especially if they've appeared to form slowly over time. But they can be a nuisance and the occasion of sharp pain with every subsequent bite. There is, though, an effective way to deal with it—simply have it removed.
While it involves a surgical procedure—an oral surgeon, periodontist or dentist with surgical training usually performs it—it's fairly minor. After numbing the area with a local anesthetic, the dentist will then completely excise the lesion and close the resulting gap in the skin with two or three small sutures (it could also be removed with a laser). The wound should heal within a few days leaving you with a flat, flush skin surface.
The tissue removed is usually then biopsied. Although it's highly unlikely it was more than an annoying sore, it's still common procedure to examine excised tissues for cancer cells. If there appears to be an abnormality, your dentist will then see you to take the next step in your treatment.
More than likely, though, what you experienced was a fibroma. And with it now a thing of the past, you can chew with confidence knowing it won't be there to get in the way.
If you would like more information on dealing with common mouth sores, please contact us or schedule an appointment for a consultation. You can also learn more about this topic by reading the Dear Doctor article "Common Lumps and Bumps in the Mouth."