Posts for: November, 2013
By Dr. Charles Bohle, Bohle Family Dentistry
November 27, 2013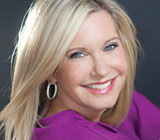 Though it's been a while since Olivia Newton-John sang her way into our hearts in the movie Grease, her smile is as radiant as ever. Today, Olivia is still singing, acting and busy with new ventures such as authoring a cookbook and raising money for the cancer center that bears her name in Melbourne, Australia. Whichever part of the world Olivia finds herself in, she protects that beautiful smile with an oral appliance that many find beneficial.
"I wear a nightguard to prevent wear on my teeth, custom-made by my dentist," Olivia recently told Dear Doctor magazine. "I love it!"
Olivia's device, also referred to as a bite (occlusal) guard, is designed for people who clench or grind their teeth at night, or during stressful periods. Made of thin, wear-resistant plastic, it is custom-made to fit exactly over your top teeth. This allows the bottom teeth to slide gently across the top teeth without biting into them. Not only does this prevent excessive tooth wear, it also helps relax the muscles of the jaw.
Grinding or "bruxing," as it's also called, can affect virtually any part of the oral system: the jaw joints or muscles, resulting in spasm and pain; the teeth themselves, resulting in wear, fractures or looseness; it can even cause an aching in the ears, head, neck or back.
If you are a teeth-grinder, you might not even know it unless a sleeping partner hears it or your dentist notices signs of wear. These habits are called "parafunctional" (para – outside, function – normal), meaning the biting forces it generates are well outside the normal range — sometimes as much as 10 times normal. So it's no wonder that damage to teeth can occur if they are not protected.
If you have any questions about grinding habits or nightguards, please contact us or schedule an appointment for a consultation. If you would like to read Dear Doctor's entire interview with Olivia Newton-John, please see "Olivia Newton-John." Dear Doctor also has more on "Stress & Tooth Habits."
By Dr. Charles Bohle, Bohle Family Dentistry
November 12, 2013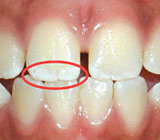 It's indisputable that fluoride has revolutionized dental care. Decades of research have overwhelming shown this natural, enamel-strengthening chemical has decreased tooth decay.
Too much fluoride, though, can cause enamel fluorosis, a permanent staining of tooth enamel. In its mildest form, the teeth develop faint whitish streaks; in more severe cases, the staining is noticeably darker and the teeth appear pitted. The teeth themselves aren't damaged, but the unsightly staining could require cosmetic treatment. Children under age 9 (when permanent teeth enamel matures) are especially at risk of fluorosis due to over-fluoridation.
Because of fluoride's prevalence in hygiene products and many drinking water supplies, it's not always easy to know if your child is receiving too much. There are two areas, though, that bear watching.
First, you should limit the serving quantity of fluoride hygiene products, particularly toothpaste. Children tend to swallow rather than spit out toothpaste after brushing, so they ingest more fluoride. We recommend a small "smear" of toothpaste on the brush for children under two, and a pea-sized amount for children two to four.
The other concern is your drinking water. Three-quarters of America's water systems add fluoride, usually to a recommended level of 0.70 PPM (parts per million). To know if your water supply adds fluoride and at what levels, you can contact your local water utility or health department, or check the Center for Disease Control's website for their "My Water's Fluoride" program (http://apps.nccd.cdc.gov/MWF/Index.asp). This site will have information if your water system participates in the program.
If your area exceeds recommended levels or is at high risk for fluorosis, we recommend reducing the use of tap water in infant formula. Besides breast-feeding (human breast milk is low in fluoride), you can use either ready-to-feed formula, or mix powdered formula with water specifically labeled "de-ionized," "purified," "de-mineralized," or "distilled."
One thing you should not do is eliminate your use of products containing fluoride — this may increase your child's risk of tooth decay. The consequences of decay can be serious and have a life-long effect — and far outweigh the risks of fluorosis staining.
If you would like more information on fluoride and your infant, please contact us or schedule an appointment for a consultation. You can also learn more about this topic by reading the Dear Doctor magazine article "Tooth Development and Infant Formula."